Pre-fertilization Events:

These events of sexual reproduction are prior to the fusion (fertilization) of male and female gametes.
a) GAMETOGENESIS: The process of formation of two types of gametes—male and female is called gameto­genesis. Gametes are haploid cells. In some algae, the two gametes are so similar in appear­ance that they are called homogametes (isogametes), e.g., Cladophora, Ulothrix. Therefore, it is not possible to differentiate them into male and female gametes.
However, in most of sexually reproducing organisms the gametes are of two morphologi­cally dissimilar types hence they are known as heterogametes (anisogametes), e.g., Fucus (a brown alga), humans. In these organisms the male gamete is called the antherozoid or sperm and the female gamete is known as the egg or ovum .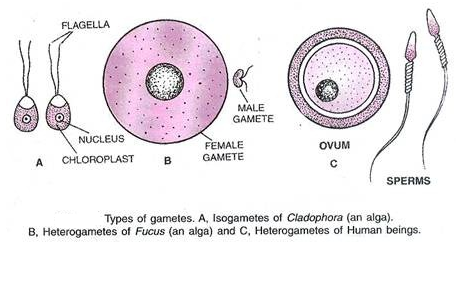 Cell Division during Gamete Formation:
Gametes are haploid whether the structures or cells producing them are haploid or diploid. The structure formed by the fusion of gametes is always diploid. It is due to meiosis which occurs in the life of all sexually reproducing organisms. Gamete producing cells which undergo meiosis are called meiocytes (gamete mother cells). The latter are diploid. On the basis of the stage at which meiosis occurs the meiosis is of three types.
(a) Zygotic Meiosis:
Meiosis occurs in the zygote producing haploid organisms. Thus zygote functions as meiocyte. Examples: Chlamydomonas and Ulothrix.
(b) Sporic Meiosis:
Meiosis occurs inside sporangia. Meiocytes occur inside sporangia producing haploid spores. On germination haploid spores (meiospores) produce haploid bodies called gametophytes. Gametes are produced in gametophytes through mitosis. Ex­amples: most of plants.
(c) Gametic Meiosis:
The germinal cells are diploid and act as meiocytes, which un­dergo meiosis to produce haploid gametes. Examples: most of animals. Thus meiocytes have diploid (2N) number of chromosomes and gametes contain haploid (N) number of chromosomes.
Chromosome numbers in meiocytes (diploid, 2N) and gametes (haploid, N) of some organisms.
| | | |
| --- | --- | --- |
| Name of organism | Chromosome number in meiocyte (2n) | Chromosome number in gamete (N) |
| Human beings | 46 | 23 |
| Housefly | 12 | 6 |
| Rat | 42 | 21 |
| Dog | 78 | 39 |
| Cat | 38 | 19 |
| Fruitfly (Drosophila) | 8 | 4 |
| Elephant | 56 | 28 |
| Apple | 34 | 17 |
| Rice | 24 | 12 |
| Maize | 20 | 10 |
| Potato | 48 | 24 |
| Butterfly | 380 | 190 |
| Onion | 32 | 16 |
| Ophioglossum (a fern) | 1260 | 630 |
(ii) Gamete Transfer:
After the formation of male and female gametes, they must be brought together for fertilization. In most of organisms male gamete is motile and the female gamete is non-motile. However, there are a few fungi and algae where both types of gametes are motile (Fig. 1.30).
A medium is needed through which male gametes move. In algae, bryophytes and pteriodophytes, water serves as the medium through which gamete transfer takes place. Since several male gametes fail to reach the female gametes, hence the male gametes are produced in large number, i.e., several thousand times more than the female gametes.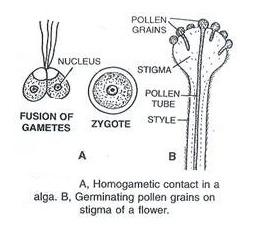 In flower bearing plants, pollen grains carry the male gametes which are produced in large number. The pollen grains are transferred to the stigma of the female organ (carpel) through the process of pollination. Transfer of pollen grains from the anther to the stigma is called pollination.
Pollination is of two types: Self pollination and cross pollination. Self pollination is the transfer of the pollen grains from anther of a flower to the stigma of either the same flower or the stigma of another flower of the same plant or genetically similar plant. Cross-pollination is the transfer of pollen grains from anther of one flower to the stigma of a genetically different flower of other plant of the same species.
In unisexual animals, male and female gametes are formed in different individuals, therefore, the organism must evolve a special mechanism for gamete transfer. Many animals have copulatory organs to transfer the male gametes. Transfer of gametes and coming together of gametes is essential for fertilization in sexual reproduction.
Related Keywords